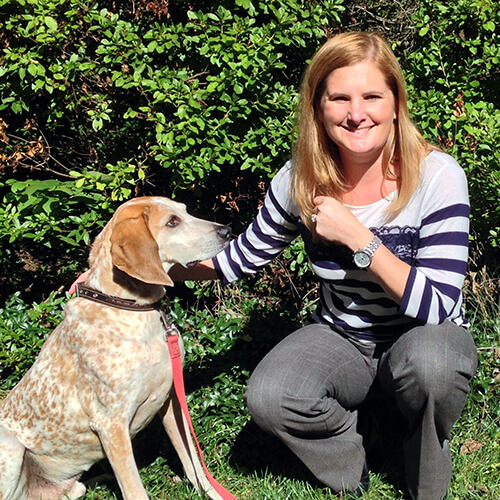 Dr. Kristy Bennett
Dr. Kristy Bennett grew up in Columbia, Maryland. After receiving her Bachelor of Science degree in Animal Science from the University of Maryland at College Park, she attended the Virginia-Maryland Regional College of Veterinary Medicine, graduating with honors in 2001 with a Doctor of Veterinary Medicine degree.

Following graduation from vet school, Dr. Bennett spent several years practicing at small animal practices in Maryland to develop and perfect her medical and surgical skills before moving to England with her husband, where she practiced in Oxfordshire.

In 2010, Dr. Bennett returned to Maryland and practiced at several small animal practices in Maryland. She has also pursued advanced training in soft tissue surgery, and dentistry and oral surgery.

In 2014, she purchased the long-established Montgomery Village Animal Hospital. Under Dr. Bennett's directorship, MVAH has focused on dogs and cats exclusively and is implementing the low-stress handling techniques advocated by respected experts Sophia Yin and Patricia McConnell.

Away from work, Dr. Bennett enjoys visiting her parents in Bethany Beach, scuba diving, running with her husband, Craig, and the company of their rescue dog Jolene, a black and tan coonhound, and three cats, Dr. Evil, Putt Putt, and Luna.

Jessica – Head Technician
Jessica has been a part of the MVAH team for almost 17 years! She is extremely passionate about her job and about animals. Jessica takes pride in her work and strives to make clients and patients feel welcome and comfortable when coming into the clinic.

When she is not at work, Jess is busy with her two daughters. You can also find her on the sidelines cheering on her daughters as they compete with a competitive dance team. Jessica and her family love to go to the beach, lake, or pool in their free time. They love being outdoors! They have a miniature Dachshund named Lucy and a Shih-Tzu mix named Jitterbug. Recently they have also acquired two pit bulls, Diesel and Kilo.

Working for MVAH has brought Jessica so much joy throughout the years; she has learned so much and grown a lot in skill. Jessica loves what she does and can't imagine doing anything else.
Lakisha – Technician
Lakisha Hayes has an unconditional love for pets! She has been in the veterinary field for over 10 years and runs a pet sitting business on the side.

Lakisha is a mother of five so things can get a bit hectic, but it's never boring at home! Her kids love to help with the pets that she brings home from her pet sitting job and the pets tend to grow quite fond of them as well. Lakisha has a spunky tuxedo cat of her own that likes to wander into her neighbor's home and take naps.

Every day her love and adoration for pets grow stronger and she hopes to give the same to your pet.
Terri – Groomer
Terri is a native of Montgomery County, Maryland. She has been working, part-time, as a groomer from home for the past two years. Her goal and passion is making the grooming experience the best it can possibly be for pets and their owners.

In her spare time, Terri enjoys reading, knitting, fishing, and spending time with family and friends as well as with her two dogs, Codey and Cisco.
Katelynn – Technician
Bio coming soon.
Jenni – Technician
Bio coming soon.